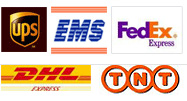 << Home << Jojoba Oil
Jojoba Oil
Jojoba Oil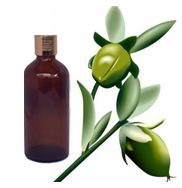 Iodine Value: 80.5g/100g
Refractive Index @40°C: 1.4581
Specific Gravity @25°C: 0.86429
Acid Value: 0.52mg KoH/g
Peroxide Value: 0.8meq/Kg
Moisture: 0.06%
Appearance: Liquid
Aroma: Herbal
Color: Yellow
Description of Jojoba Essential Oil:
The jojoba oil is extracted from the seed of the plant. Female jojoba plants produce a seed that contains 40-60% liquid wax. Jojoba oil is composed of liquid wax esters which make up 26-30% of our skin's surface layer called sebum.

Chemical Constituents:
Jojoba oil has various chemical compounds that include chained C20 and C22 fatty acids and alcohols and two unsaturated bonds, which make the oil susceptible to many different types of chemical manipulations. The extracted oil is relatively pure, non-toxic, biodegradable and resistant to rancidity.
Extraction: It is extracted from the cold pressing of the seeds.
Origin of Jojoba Essential Oil:
 The first record of jojoba is from 1701. Father Junipero Serrra found that Native Americans were using Jojoba to treat sores, cuts, burns, as a conditioner and for all over skin and hair treatments. Jojoba (pronounced "ho-ho-ba") is an evergreen shrub found in the Southwestern, United States, Israel and Argentina. Plants in the wild usually range in height from three to 15 feet and are believed to have longevity of 150 to 200 years.
Pharmaceutical Uses:
Jojoba oil can help heal acne, athlete's foot, cuts, mouth sores, pimples and warts. The oil also helps to remove build up around hair follicles. This enables it to help with dandruff, hair loss and dry scalp. In skin care Jojoba oil seems to be readily absorbed. It will not block pores. It seems to help moisture loss. When used as a moisturizer it tends to soothe wrinkles and lines due to dry skin. The skin may appear more supple and feel smoother and softer. Jojoba oil is a wonderful eye make-up remover.

Cosmetics and Toiletries:
Jojoba is the highest grade certified organic, cold pressed oil. It is bright and golden in color and is regarded as the most favored in the carrier oil family used for fragrance because of its advanced molecular stability. It makes a great scalp cleanser for the hair. Jojoba oil has many attributes that make it highly attractive to the cosmetic and skin-care industry. The oil has acceptable skin-feel properties and excellent moisturizing ability and also it is very stable and gives products a long shelf life. Jojoba oil is used in hand or body care lotion. It can be used as a makeup remover. It is used against sunburns. Jojoba oil has been used to promote hair growth and relieve skin problems for centuries. It is effective in treating dandruff, dry and chapped skin. It is also very good for sensitive skin types. Jojoba oil is called liquid gold because it is nourishing to the hair and skin while hydrating. It is also one of the few oils that can break up years of crusted build up on the scalp that can cause follicle blockage.
Industrial Uses:
Jojoba also has potential use as biodiesel for cars and trucks, as well as a biodegradable lubricant.
In industry it is also used as extenders for plastics, printer's ink, gear-oil additives etc. It is a fast migrating lubricant for small movable parts such as: locks, bikes, power tools, clocks etc. This renewable natural resource replaces sperm whale oil for industrial uses. It also renews vinyl and leather. It acts as a natural furniture polish.
It is used in making jojoba butter, refined wax, carrier base for medications requiring topical application, printing ink, a low-calorie edible oil, insulation for batteries and electrical wires.
Target Groups:
Use in any type skin, special for dry and aged skin.

Directions:
Use the oil under the proper guidance of a qualified beautician. In autumn & winter can direct apply to body, prevent dry, peel off, chilblain etc.
Applications:
Since it is composed of wax esters, it is an extremely stable substance and does not easily deteriorate and the structure closely resembles that of your own skin sebum, making it an excellent moisturizer and ideal for all skin types.
When used as a massage medium, it acts as an emulsifier with the skin's natural sebum and gently unclogs the pores and lifts grime and imbedded impurities.
It contains myristic acid which also has anti-inflammatory actions and since it has a similar in composition to that of the skin's own oils, it is quickly absorbed and is excellent for dry and mature skins as well as inflamed conditions.
If a good nourishing ingredient is needed for hair care, jojoba oil is also sometimes added to commercial hair care products, but due to the cost of jojoba oil, the quantities so included are low.
It can in most cases be used on acne skin without any problems as it helps to control acne, it is also an antioxidant - so the oil does not become rancid and can prevent rancidity in other oils. It can be used pure in massage, or can be mixed with other carrier oils.